Gifts Orders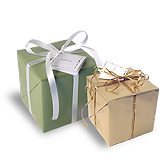 Gift Boxing:All the items of our products on our website are eligible for our gift box service. We will
Gift box your order for only $5.00 (or less for some products). Our standard gift service consists of a variety of gift boxes, gift wrapping paper, Ribbon with gift bow, and gift card attached on the outside of the box. Order your love ones a special gift from Lira Fashion which is a perfect gift for any Occasion!

Just select the gift option that is provided within the checking out option. Click on the "add to cart" button. Select the product to add to your shopping cart. Once in the cart, you can choose the gift option and add a personalized gift message. Items shipped to a gift recipient will receive a gift invoice receipt with your personalized mess personalized message and product information card!

If you would like to have 2 items of similar size gift-boxed together for the price of 1, simply choose gift wrap for only one of the items and include a note in the "order notes" section of your shopping cart at no extra cost.
Please note: For shipments outside of the USA, gift wrapping is not recommended. This can cause delays at customs and/or be rejected by customs. Please see our free gift message below.

Gift Messaging:
Items that are too large or too heavy are not eligible for gift boxing. For these items (or any item), you may include a free gift message with your order. Your personalized message is printed on a gift card. Simply fill out the appropriate field once the item is added to your shopping cart.
Items shipped to a gift recipient will not include a sales receipt – only the gift with your personalized message and product information card!

Product Cards:
We will include a product card that provides the individual special description and product care instructions with each order.
Gift Certificates :
Lira Fashion gift certificates and are available in the following amounts: $10, $25, $35, $50, $75, $100, $150 and $200. Need an amount not shown here? Just contact us and we'll be happy to customize a gift certificate for you.
Gift certificates are available in the following formats: An email version, printed version, or mailed to the recipients.

Purchase an Email Gift Certificate here or Purchase a Physical Gift Certificate Here